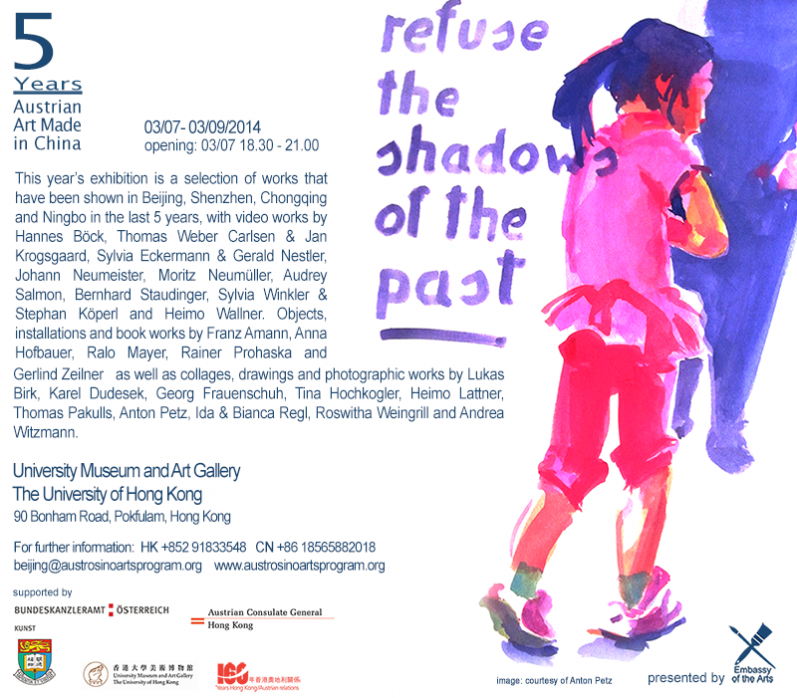 Download high resolution invitation here
Five years of Austrian Art Made in China mark an anniversary of artistic creation and transformation by Austrian + artists working in China with a concentrated focus on the 'Chinese' past and present. Five years also mark a longer existing program of internationalization, initiated by the Austrian government to allow artist to work around the world. This year's exhibition is a selection of works that have been shown in Beijing, Shenzhen, Chongqing and Ningbo in the last 5 years, with video works by Hannes Böck, Thomas Weber Carlsen & Jan Krogsgaard, Sylvia Eckermann & Gerald Nestler, Johann Neumeister, Moritz Neumüller, Audrey Salmon, Bernhard Staudinger, Sylvia Winkler & Stephan Köperl and Heimo Wallner. Objects, installations and book works by Franz Amann, Anna Hofbauer, Rainer Prohaska and Gerlind Zeilner as well as collages, drawings and photographic works by Lukas Birk, Karel Dudesek, Georg Frauenschuh, Tina Hochkogler, Heimo Lattner, Anton Petz, Ida & Bianca Regl, Roswitha Weingrill and Andrea Witzmann.
Each artist developed his or her own method of artistic practise in an new environment, by working and living and not just visiting. Many subtle translations occurred. It is not a programmatic cultural exchange, it is an approach driven by personal curiosity. The closest comparison are the pictograms of the Naxi tribe, which have been communicating with images rather with letters. Similarly, these artists communicate with, various materials, sounds, and forms to reach the visitors imagination.
Five years also deserve that we reflect not only on the facade of the program but also the backbone of all the processes and organizational work involved—the art of logistics and the alteration of moving and packing, stacking and carrying. To embody this process, the Embassy of the Arts is displaying five years of collecting local artefacts, calling the installation "606". This collection has been assembled and moved across continents—from countries in Europe or the Americas to Beijing, to Chongqing, to Ningbo, to Shenzhen, with the next temporary destination Hong Kong.
Furthermore the Embassy of the Arts will install, works by several artists in public space, to extend the indoor activities into the public domain.